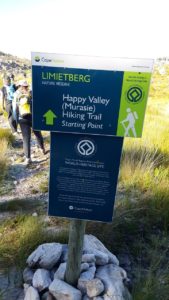 On Saturday, 24 September 2016, I drove via Durbanville and Wellington to the top of Bainskloof to join a group of about 18 hikers on a hike organized by the Paarl/Wellington section of the Mountain Club of South Africa. Â The hike was to do the Happy Valley Trail in the Limietberg Nature Reserve that start at Eerste Tol and take the trail all the way to the Junction pool and then back the same way to where we parked our cars. Â See the map below of the trail.
Although the trail is fairly long, about 16km out and back, it is relatively easy with no climbing or any scrambling. That being said, remember that any hike can be difficult when you not fit or have some ailment so be prepared always.
Along the way you will come across various historical landmarks like this monument for students from Wellington college that drowned in the early 1900's.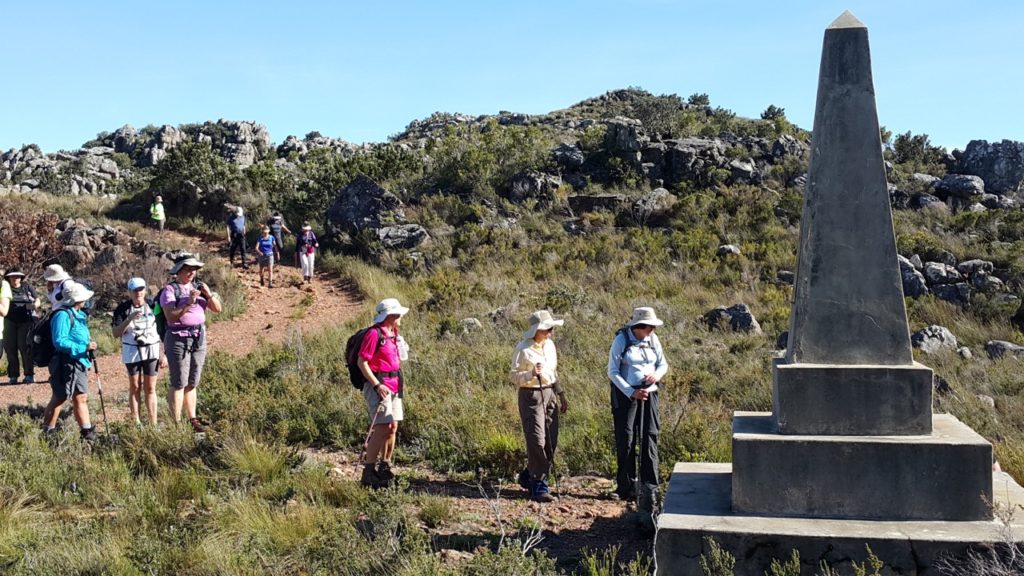 Part of the trail is called Murasie which mean ruins and although nothing remains it is where a house was built around 1930. Â The story goes that a person from Germany build the house but before he could complete it, he died. Â He only had one son and he died during the first world war. Â The house was eventually completed by the German's wife but she did not want to stay there all by herself. Â It was rented out and the house burned down and only the ruins remained which then got occupied by vagrants. The story goes further that a hiking couple was murdered by the vagrants that was staying in the ruins and it was then decided by Cape Nature to get rid of the ruins. Â Here is a photo of all that remains, an open clearing that is perfect for having breakfast on your hike.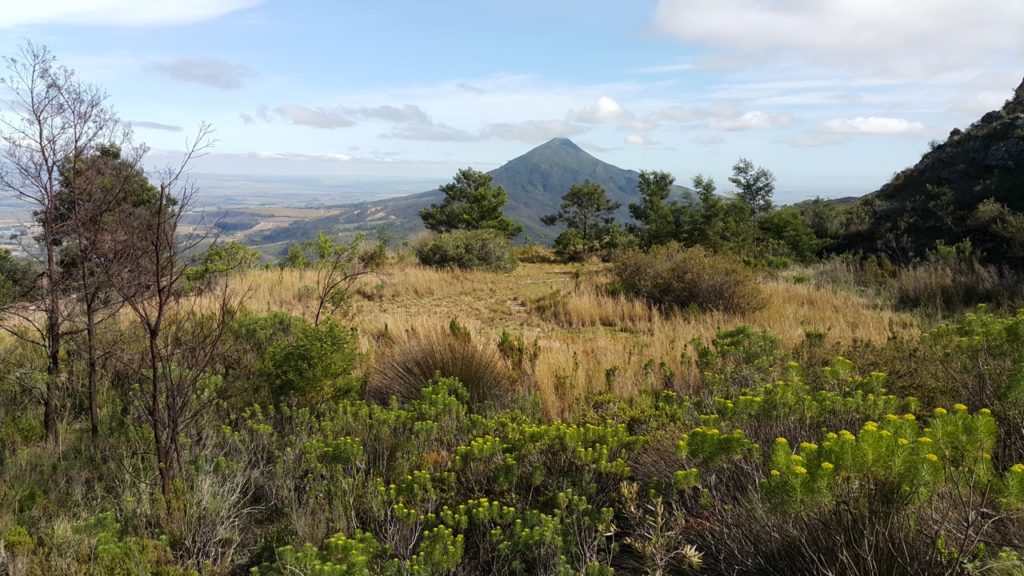 The last history lesson for today is that when Thomas Bain build the pass over the mountain, he was asked to build a duct to relay water from the river down to the farms and town.  The price that he quoted was too expensive and the farmers decided to build it themselves and the story goes that it costed them twice as much as was quoted.  No explosives was used and the duct was cut out by hand, this is what it look like today and still being used.

Photo Video, sit back and enjoy
Route Map – Happy Valley Trail, Limietberg, Bainskloof
Summer is upon us here in the Southern Hemisphere and clean those hiking shoes or boots and hit the trails. Â This one is just the right one to get going without to much strain.
Happy hiking and see you in the mountains.
---
Equipment I use (Affiliate links so I get small commission)
Camera
I use Canon Powershot SX20
Latest listed below 
Cellphone
I use Samsung Galaxy Note 4
Suggest the one listed below
Shoes
I have a pair of Keen's and HiTec.
Suggest Keen for better grip