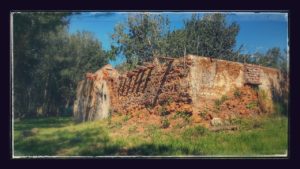 What beter way to start a new year than taking a walk in your own neighbourhood. I am priviledged to stay close to Majik Forest and put on my hiking shoes and took a brisk walk from where I stay to Majik Forest and back — see map below. Since this is my first post of 2017, I wish all my readers a great 2017 and may you hiking shoes/boots take you on interesting paths and trails.
On my way I past the ruin shown in the picture above. Google decided that it needed some enhancement and must say it did a fairly good job at it. Â Here is the original photo that was taken,

If you are a bird lover then there is ample to keep you occupied and you can relax next to the dam having a bite to eat or follow the various trails that run through the forest, just be on the lookout for the mountain bike riders. Some more photos to give you some idea.
Did you do any hikes to start your 2017, I would love to hear what hikes you did in the comments below and also interested on whether you are planning any long hikes during 2017.